We move all styles and types of homes; brick & masonry structures, single and multiple story homes, and doublewide trailer houses and modular homes as single units.
---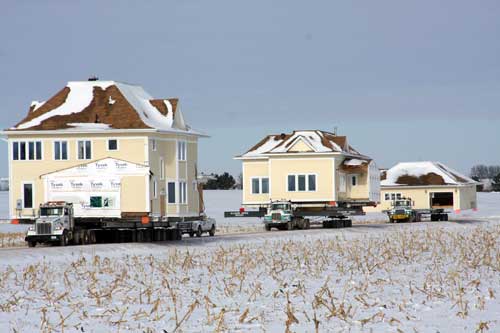 This was one of Watertown SD's largest and most distinguished homes. It was moved to a lot along Big Stone Lake. It was so large it had to be cut into 3 sections. The original three story Victorian Home was built in 1905 was hauled by one semi. A large addition to the home which contained a small swimming pool was hauled by a second semi. A third semi hauled the four-stall garage. It took 6 days of preparing the structure to move and 3 days to travel the 70 miles from Watertown to the lot located in the Oak Bay Subdivision.
---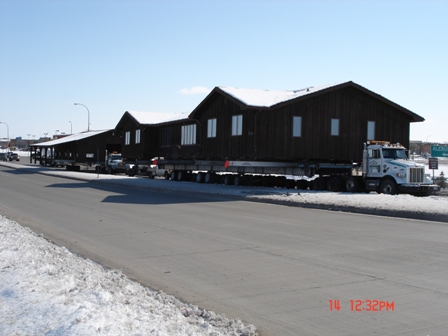 This house and storage facility headed down the highway at the same time. This was moved from Grand Forks, North Dakota to Reynolds, North Dakota. These were sold to be moved due to expansion project of the Alerus Center in Grand Forks. We have the equipment it takes to handle any project. By moving multiple houses or structures at one time, we can save on utility costs which can add up to huge savings for someone moving more than one thing, or two people each moving one thing in similar locations. We will do what we can to save costs for customers, we know how hard money is to come by, and saving money is making money.
---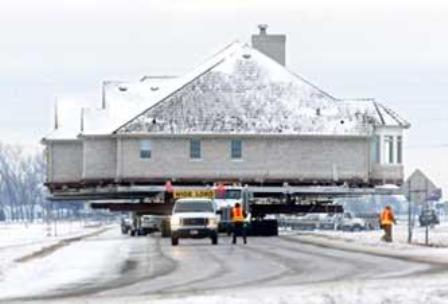 This 3000 square foot house was built in 1997 on the Point, near the Red River in East Grand Forks. The home was being moved due to flooding. The home was sold on auction and purchased for $20,000. The move was the result of efforts of at least 11 agencies, including utility companies, the railroad, law enforcement and the movers. It took 5 hours to move the house 5 miles to it's final location.
---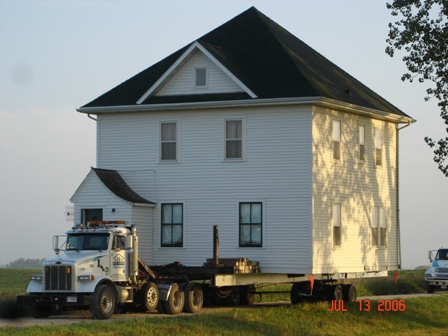 This 2 story home was moved from Sisseton, SD towards the Browns Valley MN area. A new home was built where this house originally resided and was put up for sale to be moved to another location.
---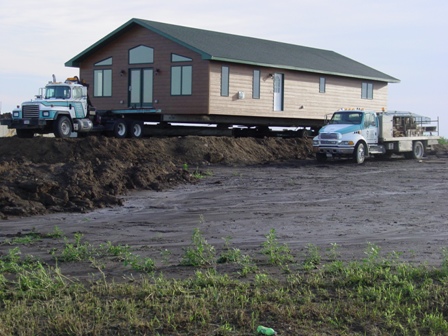 We move several redibuilt homes in a 3 state area. We move them in South Dakota, Minnesota and North Dakota. We have moved redibuilt homes such as this one over 195 miles.
---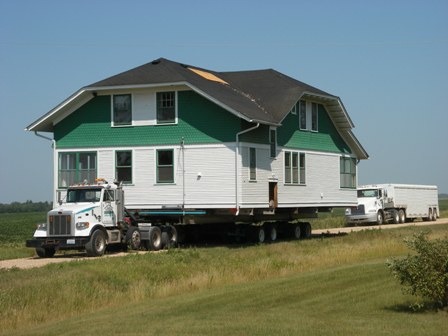 This 2-story home was moved from Herman, MN to New Effington SD. A beautiful home built in 1910 with original woodwork.